The First C3X World Tour returns with Leg Three, the final leg of the tour!  We begin this leg at a legendary venue of yesteryear...
...The Omni Coliseum in Atlanta, Georgia, U.S.A.
Originally built in 1972, the Omni Coliseum was once home to the NBA Atlanta Hawks and the NHL Atlanta Flames (now the Calgary Flames).  The Coliseum also hosted many concerts before finally closing its doors for good in 1997.  At one such concert, in November of 1987, a certain young FujiSkunk got to see a band perform live for the very first time.  That band was Pink Floyd, and in 1987 they marked 20 years in the industry since the release of their first album, The Piper at the Gates of Dawn.  Today, C3X resurrects the Omni for a celebration of bands who have stood the test of time, and were still releasing music even 20 years since first entering the scene.
Suede - Outsiders
Authored by yaniv297
Suede first appeared in 1989, but by 2003, they were ready to call it quits.  Like many bands, though, Suede just couldn't stay broken up, and by 2010 the band was together again.  At first the reunion was only to play a few concerts, but a few became a few more, and then Suede found themselves back in the studio, recording new music.  Six years later they were still going strong and still coming up with new tunes, with 2016's Night Thoughts garnering some of the band's highest critical accolades.  "Outsiders" was that album's lead single.
Bruce Springsteen - The Rising
Authored by yaniv297
Springsteen had been "The Boss" for nearly 30 years when he released The Rising in 2002.  With his finger still firmly on the pulse of blue-collar America, Springsteen wrote and sang about the subjects that weighed heavily on every American's mind that year, specifically the terrorist attack of September 11, 2001, how it changed America's place in the world, and how Americans themselves should respond.  These thoughts and verses resonated well with Springsteen's listeners and critics, and the title track in particular was deemed one of Springsteen's best in recent years.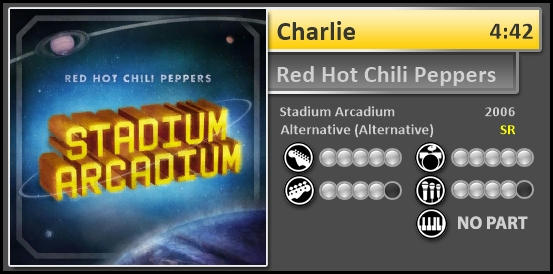 Red Hot Chili Peppers - Charlie
Authored by nsw1-6 with GreenPanda12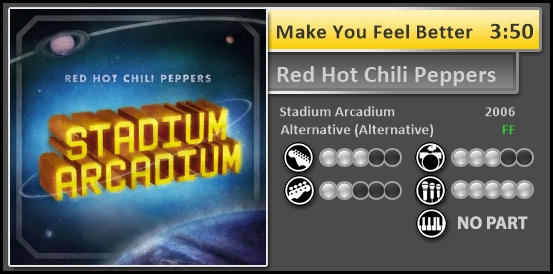 Red Hot Chili Peppers - Make You Feel Better
Authored by nsw1-6 with Fat Ha1p3rt
Despite what modern radio may lead you to believe, the Red Hot Chili Peppers had been around long before Blood Sugar Sex Magik made them superstars.  In fact, their first album appeared all the way back in 1984, a good seven years prior!  This means that when the Peppers released Stadium Arcadium in 2006, they joined a hallowed list of bands who had proven capable of creating popular and award-winning music more than 20 years into their career.  "Charlie" and "Make You Feel Better" join the many other songs from the album now available to play in Rock Band 3.
Our next few songs do not come from releases 20+ years after an artist's debut, but they still come from artists who have enjoyed, and continue to enjoy, very long and prolific careers.
Squarepusher - Iambic 9 Poetry
Authored by atupomaruru
Squarepusher - Tetra-Sync
Authored by atupomaruru with egead
Tom Jenkinson, also known by his artist name of Squarepusher, is an English musician who has been making, and pushing the limits of, electronic music for almost three decades, mixing elements from genres such as drum and bass, acid techno and jazz fusion. The track "Iambic 9 Poetry" is mostly a laid back and ambient piece, built around a repeating bass line of chords and harmonics, and slowly building in intensity throughout the song. The drums are the clear centerpiece here, starting out with a simple enough groove that builds in complexity as the song gets more and more intense, and explodes into a minute-long free-form drum improv around the middle of the track, before picking up into a fast paced groove of snare rolls with ride accents.
"Tetra-Sync" is an almost 10-minute behemoth drum and bass track, featuring some insane drums and even more insane bass. It features two drum solos and two bass solos, with the latter showcasing Tom's unique and fast-paced bass playing style. The overlapping bass tracks are split between the guitar and bass charts, and the keys chart mostly consists of pads but gets a solo based around a lead melody line in the middle of the track. The song is full of energy but also almost evokes a sense of unease with all the different effects phasing in and out, sometimes muting instruments at random. Shout-out and huge thanks to egead who authored the drums, and without whom I wouldn't have had the motivation to finish charting the rest of this madness.
Cream - Strange Brew
Authored by Rocker1999 with SynthStreaks
Cream may not have survived long as a band, but its members and its songs have more than endured in the decades since the band's break-up in 1968.  "Strange Brew" was one of guitarist Eric Clapton's early attempts at singing a lead vocal, a talent he would put to good use in a long solo career that followed Cream.
Guns N' Roses - Shadow of Your Love
Authored by Rocker1999 with GreenPanda12
What's old is new again.  Originally, "Shadow of Your Love" was something of an unofficial entry in the GNR catalog.  The earliest recordings come from 1984, when Axl Rose's band was still known as Hollywood Rose.  Other recordings followed, both inside and outside the studio, and various versions eventually appeared as B-sides to various GNR singles.  However, it wasn't until 2018 that the song was given a "proper" studio mix and released on an album.  Even then, it wasn't an album cut so much as a bonus track, added to the deluxe edition of Appetite for Destruction.  Despite the song's somewhat questionable status, it was and is a fan favorite, and even made the Billboard Mainstream Rock chart when released as a promotional single for the Appetite re-release.
This concludes our show, but we're not yet done with the goodies!  Be sure to browse the souvenir table, where you can take home some juicy upgrades for other fun Rock Band tracks!  That's right, we have ten more keys upgrades to add to the Rock Band Harmonies Project!
AFI - "Miss Murder" - keys by Linos Melendi
Carl Douglas - "Kung Fu Fighting" - keys by TheSheepQueen
Evanescence - "Call Me When You're Sober" - keys by Linos Melendi
Lady Gaga - "Bad Romance" - keys by Linos Melendi and FujiSkunk
Katrina and the Waves - "Walking on Sunshine" - keys by TheSheepQueen
Alanis Morisette - "You Oughta Know" -  keys by TheSheepQueen
Queen - "Another One Bites the Dust" - keys by TheSheepQueen
Scars on Broadway - "They Say" - keys by Linos Melendi
Shinedown - "Devour" - keys by Linos Melendi and FujiSkunk
We the Kings - "Check Yes Juliet" - keys by Linos Melendi and FujiSkunk
Visit here to see all the upgrades available for the RBHP, and be sure to browse the RBHP forums if you're not yet familiar with how to add harmonies and other RB3 features to legacy game tracks.  Enjoy, and remember:  Growing old is mandatory, but growing up is not!
Announcement written by FujiSkunk and atupomaruru.