Greetings everyone, and welcome to a celebration of Good Friday and Holy Week.

The Christian calendar defines Holy Week as Palm Sunday through Easter Sunday.  In many ways, however, Good Friday actually ends Holy Week.  On the original Palm Sunday, carpenter-turned-pastor Jesus Christ entered Jerusalem, celebrated with palm fronds and shouts of "Hosanna!" from followers convinced He would declare Himself the new King of Israel.  A mere five days later, Jesus was crucified at the hands of the Roman government, but also at the hands of a religious aristocracy who saw no place for a seemingly disrespectful, self-proclaimed "Son of God" in their belief system.  The evening of that first "Good" Friday marked the end of Jesus's time on earth as a man, and also marked the closing of a week that had begun for many with hope and celebration, only to end with doubt and despair.

Of course, the story doesn't stop there.  The following Sunday, Christ's followers learned of an empty tomb, and of an angel who proclaimed, "He is risen!"  And so, the first Easter or Resurrection Sunday began not only a new week, but a new era.  Inspired by His words and elated by the news of His sacrifice and resurrection, those first believers spread His teachings far and wide, eager to tell the world about a Savior who gave His life for the benefit of all mankind.

So, while Good Friday is a solemn reminder to believers of the cost of their salvation, it is also a worthy time to celebrate the only One who could pay that cost, and did so willingly.  Today, believers celebrate not only with traditional church hymns, but also with contemporary songs from talented artists in a wide variety of genres.  For Week 13 of Leg 2, C3X invites you to enjoy a collection of contemporary Christian and other uplifting songs at...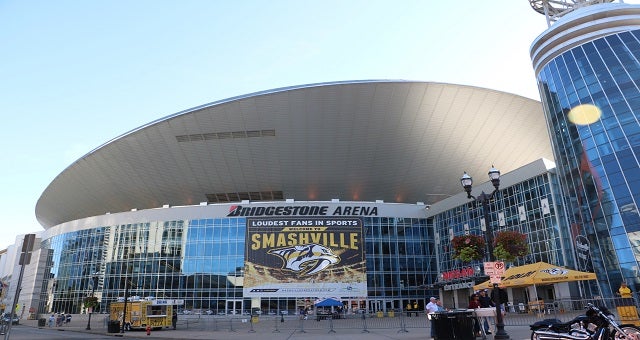 The Bridgestone Arena in Nashville, Tennessee, U.S.A.!
Home of the NHL Nashville Predators, the Bridgestone Arena is also a short trek from Rocketown Records, the music label started by CCM legend Michael W. Smith.  Smith won't be able to join us today, because he has his own Arena show on the 30th to plan for, a 35th anniversary celebration of his first album with some very good "Friends" of his, including Amy Grant, Jars of Clay and Steven Curtis Chapman!  While it might seem Smith hasn't left very many CCM artists with time to join our Good Friday celebration, we've still managed to bring you some of the best in the business!
Chris Tomlin - Our God
Local Nashville resident Chris Tomlin kicks things off with one of his most beloved praise & worship songs, "Our God".  First released in 2010 on And If Our God Is for Us... "Our God" has since become a indispensable staple of Sunday morning contemporary worship, just like many songs in Tomlin's catalog.  Tomlin will perform again at the Arena later tonight, so be sure to stick around!
Newsboys - You Are My King (Amazing Love)
Next, Australian CCM band the Newsboys take the stage, first to share another widely known praise & worship song, "You Are My King (Amazing Love)".  First recorded in 2001 by Phillips, Craig and Dean, "You Are My King" became one of the biggest Newsboys songs of the new millennium when their version appeared on 2003's Adoration: The Worship Album.
Newsboys - Shine (Remix)
The Newsboys were big even before the year 2000, though, and tonight they stick around to perform what just might be the biggest song of their career, 1994's "Shine" (presented here in its 2000 remix from Shine: The Hits).
dc Talk - Between You and Me
"Shine" is a tough act to follow, but if anyone can do it, legendary '90s Christian group dc Talk can!  Perhaps best known for their unapologetic "Jesus Freak" (released as official DLC for Rock Band), dc Talk dominated the Christian airwaves before members Toby McKeehan, Kevin Max Smith and Michael Tait went their separate ways and pursued their own solo careers.  Tonight they come together to perform their best charting single, which surprisingly wasn't "Jesus Freak" but instead another song from the same album, "Between You and Me".  Easily topping the music charts compiled by CCM Magazine, "Between You and Me" also reached #24 on the Billboard Hot 100, an impressive feat for a religious group!
TobyMac - Gone
Following "Between You and Me", Toby McKeehan returns to the stage as popular CCM solo artist TobyMac to perform a song from his 2004 album Welcome to Diverse City.  "Gone" is a song about love lost and the dunce who lost it, and proves just because Christians are taught to turn the other cheek doesn't mean they won't sometimes keep turning and walk away.
Steve Taylor - I Want to Be a Clone
Next up is an artist not even every Christian music fan has heard of, but who has nonetheless played a big part in shaping contemporary Christian music in general, and, as co-writer of "Shine" and several other Newsboys hits, in shaping Newsboys music in particular.  Before his joint ventures with the Newsboys, Steve Taylor worked throughout the 1980s creating songs that often touched on subjects not every churchgoer was comfortable discussing, or even acknowledging.  One such song, the title track from the 1982 EP I Want to Be a Clone! is a deliciously subversive yet also very appropriate warning about what happens when a church focuses too much on rituals and conformity.
Lifehouse - You and Me
Authored by VreyIsGrey with Spindoctor
Lifehouse takes the stage next with "You and Me", from their 2005 self-titled album.  While Lifehouse is not an overtly religious band, the Christian church played a large part in the band's beginnings.  Jason Wade and Sergio Andrade met each other at the Vineyard Church in Malibu, California, where both were involved in the youth group and the music ministry.  A song written during those youth group days, "Everything", appeared on debut album No Name Face.  Lifehouse then scored one of their biggest hits with "You and Me", a love song that heralded a softer sound the band would continue to pursue.
Stryper - To Hell with the Devil
And now, we go back to the '80s, the decade of big hair and even bigger hair metal!  One of the biggest hair metal bands also happened to be Christian, and they weren't afraid to tell people what they really thought of the enemies of Christ!  In 1986, dressed in yellow and black, Stryper released To Hell with the Devil.  Today, Stryper performs the title track and invites you all to rock out and to say, "To Hell with the Devil!"
Switchfoot - Dare You to Move
Finally, Switchfoot takes the stage with a message for everyone, regardless of beliefs.  As recorded on 2003's The Beautiful Letdown, the same album that yielded official Rock Band DLC "Meant to Live", "Dare You to Move" is a call to arms, a proclamation that you can live every day as if it's your first, without any history or regrets to hold you down.  All is forgiven.  Now move!
All customs authored by FujiSkunk, except where noted.  I want to thank VreyIsGrey, Spindoctor and MrPrezident for their help in making this release happen.  I would also like to dedicate my part of this release to Robin and Shawn, who helped me see the Devil most definitely doesn't have all the good music.  I hope y'all enjoy!