Hello, welcome, one and all, to Leg 2, Week 12 of C3X!
This week, we're traveling to Brooklyn, New York for a very special date.  You've seen plenty of familiar names in music before, and they may be great, but where do the legends that go down in rock history go?  That's right, ladies and gentlemen, we're going to Barclays Center for one of the most exciting dates yet.
C3X presents...
Let's kick off this party with songs from select Rock Hall alumni!
~*~
Ostensibly a satire on hippy culture, 'Apeman' caused a minor uproar upon release in 1970 when singer Ray Davies was forced to fly back to London to re-record the line "the air pollution is fogging up my eyes" because the word "fogging" was misheard by many in the UK as something far ruder.  Although the novelty of the Caribbean piano and the light hearted content of the lyrics are interesting over 40 years later, the faux-accent and 'Apeman' references are not exactly considered politically correct subject matter in 2019. -MrPrezident
The Kinks - Apeman
Authored by MrPrezident and Dash Riprock
~*~
Easily Bowie's most groundbreaking and interesting feat, Blackstar is a final breath of sorts (figuratively and literally) for Bowie's 50+ year career, and, clocking in at just under 10 minutes on the record, it's easily one of his longest.  The song takes you through a psychedelic rock/neo-jazz infused journey inside the mind of a dying man, exploring themes of death and his acceptance of it (hints that also appeared on other songs on the record like Lazarus), before culminating into a rocking finale reminiscent of his most popular days.  -CUTstudi0s
David Bowie - Blackstar
Authored by CUTstudi0s and yaniv297
~*~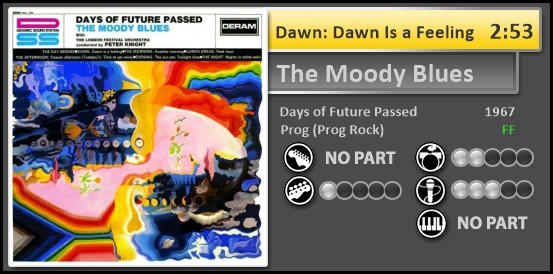 The Moody Blues - Dawn: Dawn Is a Feeling
Authored by nsw1-6
OD/Manual Reductions: ejthedj
Audio Source Lineage: 1972 Quadrophonic Mix -> 48/24 WAV -> Audacity -> New Mixdown
~*~
"They say that I have no hits and that I'm difficult to work with. And they say that like it's a bad thing."
______________________________________________________________________________
Tom Waits – fittingly, he said this during his Rock n' Roll Hall of Fame acceptance speech.
And indeed, Tom Waits have no "hits", and he never really seemed to attempt any either. His arguably best work was done right in the middle of the 80's – the height of synthesizers and drum machines – but Waits was busy recording accordions and marimbas instead. He would spend hours trying to achieve the sound he wanted organically – in various methods, such as hitting the bathroom door with a two by four to create percussion – much to the frustration of his studio engineers, who claimed they could achieve anything he wanted with modern technology. But Tom Waits is pretty stubborn.
But if he ever came close to having a hit – it's probably this song right here. It took 17 songs, but right at the end of his magnum opus "Rain Dogs", and after going through many different genres, "Downtown Train" is the first song that have any resemblance to the decade it was released in. It's still quite far from an actual 80's pop tune -  but the snare drum, the melodic chorus and the smooth guitar line in it definitely have their potential. Which Rod Stewart realized several years later, when his infamous pop cover of this tune became a major Billboard hit. When asked about his opinion of the cover, Waits said he liked it, because "it paid for my swimming pool". 
The Tom Waits original, charted here, is widely beloved by music fans. Rock Band wise, the guitar track is the definite highlight – smooth rhythm, a catchy riff that's inseparable from the chorus, a great solo, and a sweet outro too. Other instruments are more basic, but are all entertaining and ever present. Waits is an unique vocalist, and you get to sing along with him, and the brilliant ways in which he reinterprets the verses and the chorus. It's a classic from a legendary artist. -yaniv297
Tom Waits - Downtown Train
Authored by yaniv297
~*~
From one music legend, to another – but this time we go early, really early. In fact, this album is the first time the songs written by Neil Young (and Stephen Stills) would ever be released on an album. So early that Young doesn't even sing most of his songs yet – this tune here, while being written by Neil Young, is sung by Richard Furay, while the duo of Young and Stills contribute their harmony voices, who will become legendary in the future.
Despite being written extremely early in his life, "Flying on the Ground" shows the obvious insane talent Young had, and in my humble opinion would rank (at least) among the top 20 songs Neil Young has written. He would later transform it into a slow, aching acoustic ballad – as heard on the brilliant "Live at the Riverboat" album – but this original version is upbeat, and extremely entertaining to play on all instruments. The lead guitar is everpresent through the entire song, with large amounts of nice riffs and licks, while drums and bass are similarly active and varied. Furay does a great job of delivering this beautiful melody, while the Young-Stills harmonies are already as beautiful as they would ever be. This is a fascinating glimpse into the early years of a musical legend, but most importantly, it's an amazing song that's extremely fun to play on all instruments. -yaniv297
Buffalo Springfield - Flying on the Ground is Wrong
Authored by yaniv297
~*~
"Misty Mountain Hop" was at the time a stylistic throwback to the 60's British Invasion, even though the song was originally recorded just a few short years from that period.  Based on a jaunty four note riff by Jimmy Page and John Paul Jones, it features a signature scale-crushing drum beat from John Bonham, with Robert Plant's lyrics fixated on concern for members of the Woodstock generation who happen to be caught in a drug bust.  Compared to "Stairway" (and virtually every other cut on their historic IV album), "Hop" is merely a perfunctory excercise in rock formalism that doesn't break the mould, does its business with little fuss and then wraps up, and quickly became an undying radio staple. -MrPrezident
Led Zeppelin - Misty Mountain Hop
Authored by MrPrezident
_______________________________________________________________
And now, for our post-awards ceremony!  Here's our closing band, emerging from the shadows of retirement, Rush!  As part of the final pack of this week...
Rush & Roll
by DoNotPassGo, Bansheeflyer, & ejthedj
Around the time of Power Windows, Neil decided to replace and rethink his drum setup, both acoustic and electronic. He demonstrated his new toys in a multi-track recording of a piece of music that used only percussion instruments. Modern Drummer magazine published the result as a flexidisc soundpage in their May 1987 issue. Those familiar with Peart's later drum solos will reconize the chorus and main motif, and you'll also hear what later developed into the marimba breakdown from Rush's Mission. -DoNotPassGo
Neil Peart - Pieces of Eight
Authored by DoNotPassGo and ejthedj
~*~
This is Neil Peart's drum solo from Rush's "R30" 30th Anniversary World Tour. Peart also released a DVD that same year titled "Anatomy of a Drum Solo" which presented the concepts and techniques behind each segment of this nine-minute drum solo. I mention this because that DVD came with a pdf transcription of the entire* solo, which I was able to convert into Rock Band and release to everyone. That means this custom should be as accurate as possible to the original... in all of it's difficulty and glory! -DoNotPassGo
Rush - Der Trommler
Authored by DoNotPassGo
~*~
This is a live, acoustic version Rush's "Resist", from their R30 30th Anniversary World Tour. Featuring only Geddy Lee and Alex Lifeson, this song was performed during both the Vapor Trails [more commonly Rush in Rio] and R30 tours, following after Peart's Drum Solo. This song is a drastic change from Rush's usual adherence to performing live songs very similar to their Studio Recordings, which I believe helps to bring out the magic in a different and special way. -DoNotPassGo
Rush - Resist (Live)
Authored by DoNotPassGo and ejthedj
~*~
As the name suggests, "The Manhattan Project" was written about the creation and use of the atomic bomb that was planned, tested, and eventually dropped over Hiroshima and Nagasaki at the close of World War II. Neil Peart did extensive research on the Project while writing the song to ensure his understanding of it. Despite having never been released as a single, the track reached #10 on the U.S. Mainstream Rock Chart.
Rush performed the song live on their supporting tours for Power Windows, Hold Your Fire, and Presto before it was dropped. It was brought back live over twenty years later on the Clockwork Angels Tour where it was played with the accompanying string ensemble (which was wicked awesome to experience).  -Bansheeflyer
Rush - Manhattan Project
farottone: Guitar, Bass, Drums, Vocals
Bansheeflyer: Guitar/Bass fixes, Keys, Harmonies, Overdrive
______________________________________________________________
Thanks for tuning in this week!  Download all your favorites, and join us next week, where we'll take you to Bridgestone Arena in Nashville, Tennessee!