'Eavy Metal Masters: One Year Deep in the Heep
Heyo everyone, it's been since the previous leg that I have headlined a date here on the C3X Tour; a main week release at that! And I come to you all this time with the inauguration of a classic act into the C3 database and forums. For this week's release, we have rock and metal classics from Uriah Heep, tracks spanning over a year's worth of output, pulled from Demons and Wizards and The Magician's Birthday. The band itself has had many ups and downs, while also putting out record after record over their 50(!) year span (even a new one last year!). To celebrate their legacy, we bring you back to the Birmingham Town Hall in England with selections listed on their first live recording (Uriah Heep Live) taken over 45 years ago. Accompanying this paragon of heavy metal and early hard rock, we have two cuts from the same cloth, Blue Oyster Cult and Led Zeppelin!
All audio from Demons and Wizards and The Magician's Birthday is sourced from the 1990 CD reissues with some additional enhancements by yours truly.
Many thanks to FatHa1p3rt and EJ for their speed, and ghostbyob for emergency charting chops (in the upcoming tracks).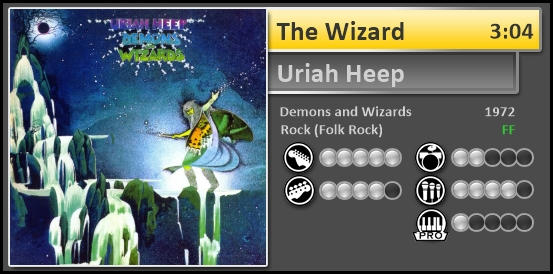 OD/5-lane Keys: FatHa1p3rt
This song probably needs no introduction. Come join the Wizard in his mountain home, and listen to the tales he tells as he pilfers some of your drink.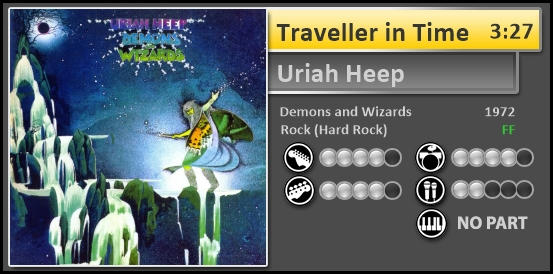 OD: FatHa1p3rt
Coming off the heels of the cathartic acoustic intro, the band tears open a new wormhole and rocks out to someone sentenced to the void of space for his past transgressions. Far out, man.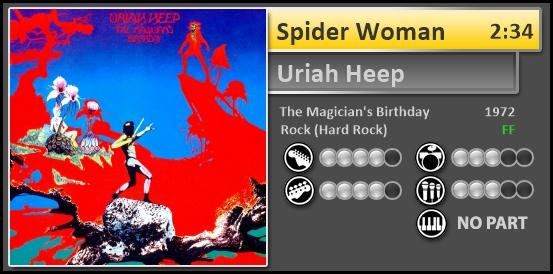 OD: FatHa1p3rt
Moving on to the next album, we have the second track off of The Magician's Birthday. 
This little single ditty leeches it's groove off of Easy Livin' (granted, EL did the same to Look At Yourself), but it moves "oh so good" that even the narrator can't keep away.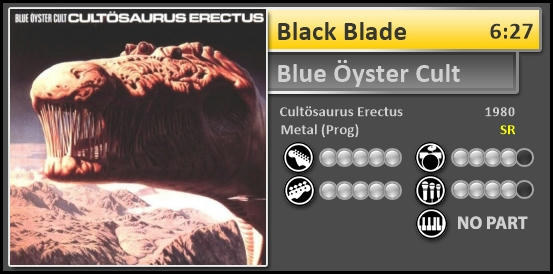 Vocals: Atruejedi
OD/5-lane Keys: ejthedj
Audio Source Lineage: 1980 US Vinyl ->  ION Profile LP Player (w/ pre-amp) -> Audacity -> .MP3 (ugh) -> Audacity (for EQ, Detailed Click Removal) -> .WAV
Our first special guest track is from a set of lyrical collaborations between band frontman Eric Bloom and fantasy writer Michael Moorcock. The topic at hand here regards Moorcock's character, that of Elric and his mystical sword Stormbringer. Although wielding such a powerful sword, Elric realizes that it really does have a mind of its own; an Eltrich Abomination that seeks chaos and destruction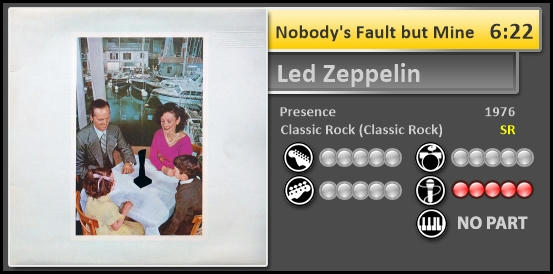 OD: FatHa1p3rt
Audio Source Lineage: 1976 Analog Master -> 1990 Japanese SHM-CD -> EAC -> WAV
Now this one took a while to get done lol. Probably the peak track off of Led Zeppelin's seventh outing, the band created their own rendition of Blind Willie Johnson's "It's Nobody's Fault But Mine". Here the Zeppelin sticks with the blues riff, but directing its power onto another path: Plant's vocals doubling over the main sequence, hard pauses, and attempts at progressive rock with bass-drum interplay on the main.