A C3X WORLD TOUR SPECIAL EVENT

nsw1-6 here. My past two releases so far for C3X have been anniversary-themed releases, so why not a third one? 
This evening we bring you to the Allstate Arena in Rosemont, Illinois, a stone's throw from the band's beginnings, for the Tenth Anniversary of Fall Out Boy's fourth LP outing, Folie à Deux. Though receiving a mixed response from fans and critics, I firmly believe it to be the band's BEST album (granted I've only listened to their albums before their hiatus).  I've been waiting a long time to work on and finish this album, so it was the perfect opportunity to do so. The album covers various topics that delve into a more deeper and cynical criticism of the modern post-9/11 era, presented outright or through lyrical metaphor that leaves people stumped to this day.
Glancing over the CD version of the album already gives a glimpse into the reality (or disillusion) held within, the song titles being mirrored on the back and a cleverly-hidden message on the inner spine reading "Your Art is Being Controlled". If we skip over the pregap track ("Lullabye") and the serening acoustic melodies of Stump telling us to "go to sleep" and ignore the real world, we see the album is bookended by two different odes to drugs and what they do to celebrity, one being a tongue-in-cheek anthem (Disloyal Order of Water Buffaloes) and the other a defeatist freak-out (West Coast Smoker). Drugs are scattered throughout the album in various forms here and there, or make reappearances in full ("27", "20 Dollar Nose Bleed"). The other major theme on this album is celebrity and the responsibilities (or irresponsibilities) that come with it. Sometimes it comes off as full-blown ignorance ("I Don't Care"), sometimes with apathetic awareness ("America's Suitehearts", "She's My Winona") and sometimes with influence ("Coffee's For Closers"). The two themes interact with relationships to form a trinity of connected issues, mostly being negative discussion. We see this come out in depressing ways ("What a Catch, Donnie", "The (Shipped) Gold Standard"), creepy ways ("Headfirst Slide..."), angry ways (Wentz's interlude, "w.a.m.s."), and vindicative ways ("Tiffany Blews"). Overall this albums serves as a great semi-artistic statement of the late 00's zeitgeist and for the band to step out of the limelight temporarily to "detox".

Thanks to Septekka for contributing "What A Catch, Donnie" and "20 Dollar Nose Bleed", and FatHa1p3rt for helping me on 5-lane Keys/cleanup/venues/reductions/etc for all of my tracks and providing Vocals/Drums for "West Coast Smoker".
Note: We did not have time to finish "(Coffee's For Closers)" for today but we promise it will be out soon. Also did not have time to work on harmonies for my tracks, as well as Keys for "Tiffany Blews" and "West Coast Smoker", but we'll add them in when FatHa1p3rt and I have some more free time.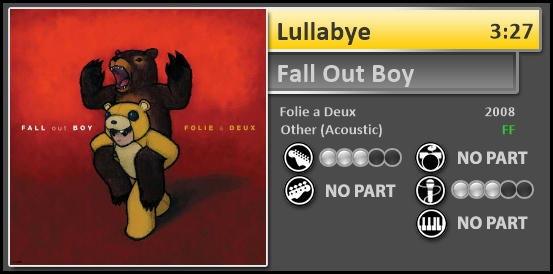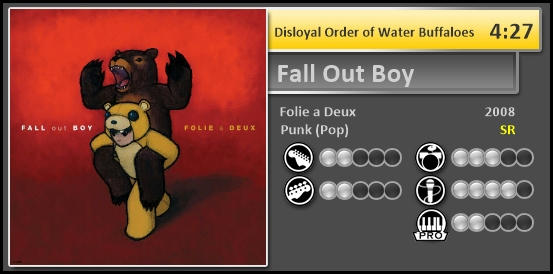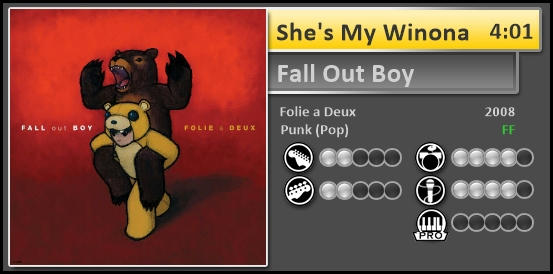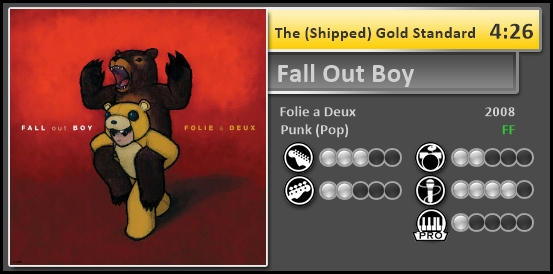 Septekka's Notes:
"What a Catch, Donnie" is a slow-burning ballad - one of very few songs in Fall Out Boy's discography that can be described as such - and is much-loved among fans, for a number of reasons. It was the last single and the last music video released by the band before their hiatus, and its lyrics are among the most emotional pete wentz has ever penned. They're a promise that he'll never attempt to end his life again, written for his bandmate and best friend, Patrick Stump - but it's written to be from Patrick's perspective, and is also intended to remind him of what he's achieved and help him overcome his own self-esteem issues.
Musically, it features soft, piano-based verses that are suddenly interrupted by a dramatic DUN DUN DUN DUN as the song bursts into its bombastic chorus. The song features some cool guitar leads and drum fills, and perhaps more than in any other FOB song, Patrick just goes OFF with his Soul Voice with all sorts of crazy runs and long sustained notes. After the bridge, with its "naaaaa naaaa na na naaaa" chant, the song suddenly hits you on the head with a reprise of the chorus from "Headfirst Slide Into Cooperstown on a Bad Bet," a song from earlier in the album, sung by none other than Elvis Costello. The outro brings back the "na na na" chant, but now it's in the background while a host of guest vocalists (including Brendon Urie, William Beckett, and more) alternate singing interpolated choruses from several of the band's past hits, taking fans on a trip down memory lane before bringing it back down to a quiet piano/vocal finale.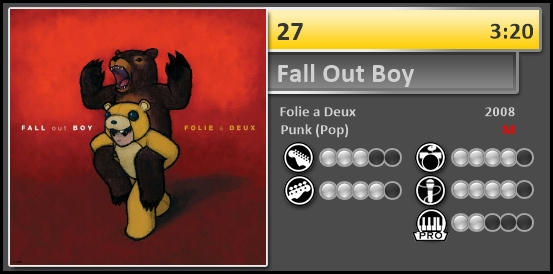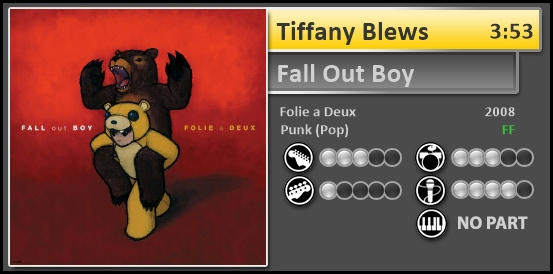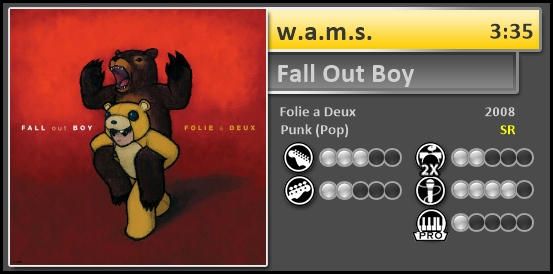 Septekka's Notes:
The penultimate track on the album, "20 Dollar Nose Bleed" is one of the more upbeat songs to be found on it, with its poppy piano chords and bouncy groove. It's a sort of duet with Brendon Urie (making his second appearance on the album), where they trade lines in the pre-chorus, then sing in unison in the chorus itself, which is quite energetic and very catchy. The lyrics here take a turn for the political, alluding towards George W. Bush and the Iraq War, and heavily referencing the amphetamine Benzedrine, which was used by WWII soldiers to stay awake and alert. Benzedrine also tends to give its users nosebleeds, and at the time of the album it could be typically acquired for $20, so... there you go.
The vocals start out fairly tame on this one, but he gets progressively more wild with every chorus until he's just going all over the damn place in typical Stump fashion. The song is accentuated with a brass section, adding a cute melody in the pre-chorus and punchy syncopated horn stabs in the post-chorus, during which the drums are just going off with sick fills all the while. After a couple verse/chorus cycles, the song comes down to an organ-backed break with playful vocals and dramatic full-band hits adding tension in the middle. The third verse is cut off short, with a quick drum fill leading straight into the last chorus, and the song concludes with a brief reprise of the opening verse.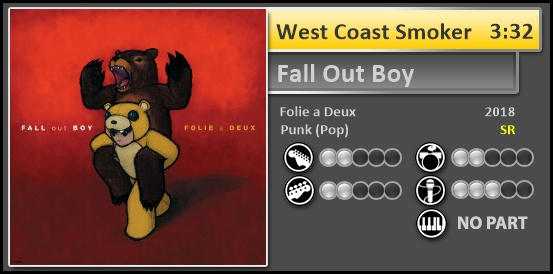 ENJOY!!