Welcome back!
I hope you had a good night sleep and a great relaxing morning at Barcelona. Maybe had a few drinks, as you reminisce and talk about yesterday's great memories. I hope you are ready for another day of great music! Once again we arrive on site on Parc Del Forum, this time no line (since we already have our bracelets!), and as we go through the merchandise area, we're ready for yet another great day of music.
Our first stop today is the familiar Primavera Stage, to catch our first act of the day:
17:40-18:20, Primavera Stage - The Veils
The Veils are a great, dark alternative band. "Not Yet" is the opener to their great "Nux Vomica" album. It's like a dramatic, epic, western packed into a song. Led by frontman Finn Andrews, who gives possibly the best vocal performance of his career - screaming, yelling, and absolutely losing it as he tells the tale of his childhood and his sexual adolescent. The Veils sound is epic and huge, reminds me of Nick Cave and the Bad Seeds, the drumming is absolutely top notch in this one, and all the other instruments are damn fine as well. Kicks off acoustically, before the entire band joins in, it than gets into a swing section, which leads to a surprising c-part and eventually an epic climax - it's absolutely a great song and hopefully a great custom as well.
So The Veils were brilliant, and now we'll head to the Ray Ban stage, where we'll spend the next few hours watching two great Madchester bands in a row. If you're unfamiliar with the term, "Madchester" was a small genre which combines aspects of indie rock, psychedelic rock and dance music, directly following from the influence of The Smiths, New Order and The Fall. The stage is already packed with excited people:
And we're ready for the first act:
18:50-19:40, Ray Ban Stage - The Chameleons
By the way, this is the exact same time and stage The Chameleons have actually played in the 2012 edition of Primavera.
Custom by Septekka, who writes:
"While not quite one of the stars of the post-punk show in terms of sheer popularity, Manchester-based band The Chameleons more than make up for that with a short but stellar run of brilliant records in the mid 80's, cementing themselves one of the genre's most essential and perhaps underrated bands. Their 1983 debut, Script of the Bridge, remains arguably their most well-known and highly-regarded record, with consistently great songs and lush, yet sharp production. Though some songs on the album play the post-punk angle fairly straight, others take on a more atmospheric, dream pop-like quality in a way not dissimilar to late-80s The Cure - only earlier. 
"Second Skin," a classic, fan-favorite cut, is in some ways one of those tracks, being washed in icy synth pads and reverb-soaked, borderline-psychedelic guitars. Yet, it still maintains a solid bassline and a steady, assertive drum groove, making it a musical contradiction of sorts - an aggressive dreamscape that immerses you in a haze while simultaneously urging you to bob along with it. The first half has more of a harder-edged rock feel, with its ever present guitar riff - but with a subtle key change, the latter half suddenly brings the volume down several notches, then gradually builds until it reaches a dramatic snare roll, as it opens up to an emotional peak that feels like you're floating on air until the song comes to a close".
By the way, here is a video of the actual performance of "Second Skin" in Primavera 2012.
So the Chameleons were brilliant, but for once we're actually staying at the same stage, it's getting darker as we're waiting for the next band:
20:30-21:20, Ray Ban Stage - Inspiral Carpets
Inspiral Carpets are one of the important bands in the Madchester scene of the late 1980s, alongside such bands as Happy Mondays, The Stone Roses, and The Charlatans.Inspiral Carpets leaned more towards psychedelia than their typical Madchester colleagues, with a style that knit together elaborate organ riffs, double vocal lines, and a guitar style more associated with the '60s than the '80s. They take the stage and play a great set of songs, but there's one song in particular the crowd is especially waiting to hear:
In a perfect world, this chorus is sung by a huge crowd of 50,000 people every night. This is not a perfect world, but places like Primavera exist - where alternative fans come together, and where many niche or smaller bands find extremely warm and appreciative audience. "This is How it Feels" is the band's biggest moment, it even ended up peaking at #14 in the UK charts, a huge achievement for such an alternative band. It's a huge, brilliant anthem with dark lyrics of a troubled marriage and possibly abuse. 
As the band belt out this great song, the Ray Ban audience coming together to sing the chorus:

"This is how it feels to be lonely,
This is how it feels to be small,
This is how it feels when your word means nothing at all..."
The show was amazing, and we're overjoyed. Once again we take the walk to the main stages area, arriving in time to catch our spot for today's headliner and last band:
Mango Stage, 22:10-00:10 - The Cure
Which by the way, is the exact time and place The Cure played in Primavera 2012 - the same day the Chameleons played! Nice coincidence there... I modeled the setlist as closely as I could to the actual setlist the Cure played at Primavera, of course with adjustments to the songs we have in our DB.
The hour finally arrived, the crowd is packed, the audience is waiting, and The Cure take the stage! They open their set with this brilliant song:
Guitar and bass by grubextrapolate 
"Say hello on a night like this" - Robert Smith calls from the stage, as he playfully says hello to the audienec.
"A Night Like This" wasn't one of the band's biggest singles, though it's definitely one of the best. As the Simon Gallup/Boris Williams rhythm section lays down a strong, punchy beat for the guitars to ride on, Robert Smith details a cryptic but somehow just-right image of a relationship on the verge of collapse. His singing is brilliant, his hurt vocals suit the words exactly, growing even stronger as he goes, while instruments are solid and varied enough. An interesting highlight of this song is a a guest saxophone solo by Ron Howe, charted to keys and makes this song very unique in the bands catalog. A true Cure classic to open this show.
Next up is yet another huge classic:
Guitar and bass by grubextrapolate 
Probably the one song we were missing the most, "Pictures of You" is a true masterpiece and considered by many to be the Cure's best song. This is the Cure at their best: a gorgeous, shimmering two-chord cascade of synthesizer slabs, interweaving guitar and bass lines, passionate singing and romantic lyrics from Robert Smith. It's a hugely emotional epic, and one of the centerpieces of the Disintegration album. On paper, the words might seem like slightly overwrought love clichés (such as the climatic line "there is nothing in the world that I ever wanted more, Than to feel you deep in my heart"), but Smith delivers them with an unquestionable sincerity that gives the song it's emotional strength. Rock-Band wise, guitar players will love it as it's filled with brilliant varied guitar lines. Bass is melodic and drums play a fairly static disco beat with some variations. As for vocals, well, you can't go wrong with that one.
Next up:
Guitar and bass by grubextrapolate 
Full of epic guitar riffs and brilliant drumming, the 1985 classic "Push" was always an obvious pick for Rock Band - in fact, I was quite surprised it wasn't charted already! "Push" is the Cure firing on all cylinders, featuring a lengthy instrumental intro with great guitar riffs, brilliant bass and some fine, creative drums full of fills that I'm sure you'll enjoy. Once Robert Smith starts singing, his huge voice takes over the track and takes it to a different place. It's a brilliant piece of rock music and a perfect fit for Rock Band.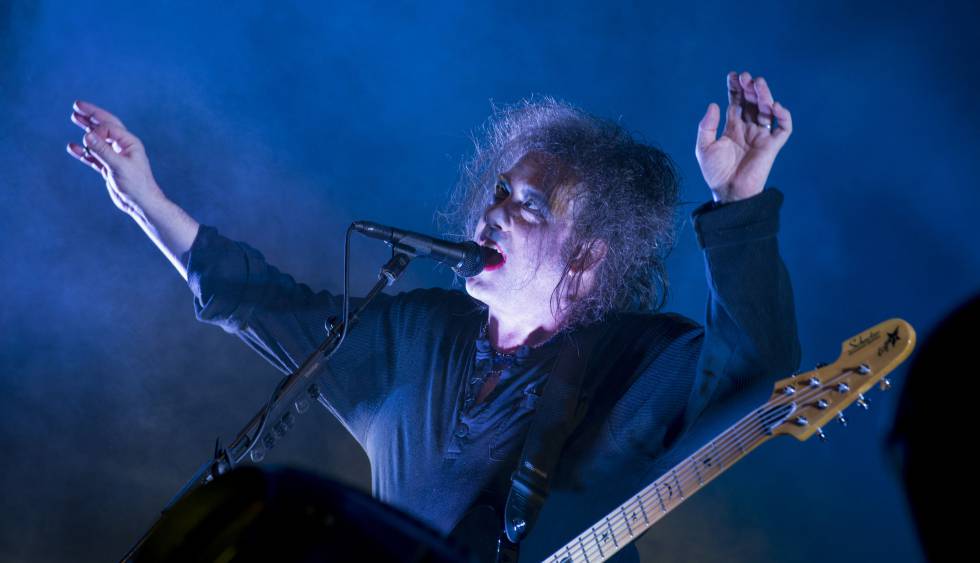 The Cure keep up with the hits, pulling out the brilliant "In Between Days", before giving their more hardcore fans two treats with two great deep cuts - "Six Different Ways" (from 'The Head on the Door') and "The Holy Hour" from the cult-classic "Faith", before going back to another pair of hits - "Just Like Heaven" (it's an RB3 disc song) and "Lullaby". Another treat for the fans - the "Pornography" favorite "The Hanging Garden", before they step up the pace and rhythm with "Fascination Street" and "Hot Hot Hot!!!". Next comes up the emotional climax, with:
The Cure post-"Wish" career have known ups and downs, but at their best, The Cure still produced some absolute incredible moments. And "Want" is definitely one of those. The opener to their 1996 album "Wild Mood Swings", "Want" is an amazing ballad that's been a concert staple since it's release, "Want" is the Cure at their emotional best. It also makes a great custom, with some brilliant drums filled with fills, and some nice guitars and keys/strings. It's probably the least known song on this pack, but give it a go - you won't regret it.
Blasting along at a quick, roaring pace but completely drowning in sorrow and collapse while it does so, the title track to the Cure's masterful 1989 album in some ways encapsulates the album as a whole -- accessible but ultimately harrowing destruction. Disintegration is possibly the most affecting epic track of The Cure's career. Based on an upbeat, tricky disco beat and bass line, "Disintegration" almost pitilessly portrays a relationship tearing itself to pieces in drama and soul-wrenching grief. Robert Smith owns this track, his guitar lines commanding it, and his vocals are downright unbelievable - he literally seems to breaks down to pieces at times, as the song keeps building building to a final, blasting climax, and a huge emotional breakdown.
The band go down from stage, but it's not over yet. The Cure are known for their huge encores - that particular Primavera show, had 3 encores with 13 songs overall. This time they kick it off with this gem:
The final track of their 1989 masterpiece "Disintegration", "Untitled" has been often overlooked, but it's a beautiful conclusion to the album. Described by Smith as a "a hopeful song in a hopeless world", even though it's debatable how hopeful those lyrics actually are, "Untitled" is led by a unique and ultra-cool mellow drum beat, with some melodic bass and guitar lines on top. A beautiful song and a less-known highlight of the Cure's career, for me.
The encore goes on with the fun single "
The Love Cats
", before The Cure treat their audience to one more deep cut in "
The Blood
"
(that was played in the encore of the actual Primavera show, btw), and finish it off with another stretch of hits: "
The Caterpillar
", "
Close to Me
" and finishing to huge applause with their classic "
Boys Don't Cry
".
Here's my full RB Cure setlist:
Encore:
Additional Cure customs by: DeathThreatUK, Septekka, Ruck Bogers 22, anglebracket, MissingElements and Nunchuck.
And that's it. Time to say goodbye! It's been an incredible festival, and I hope you enjoyed this as much as I did. Thank you for reading all the nonsense I wrote, hope you liked the songs, and maybe discovered a few newer favorites. Thanks everybody who helped with this, Septekka for his songs and graphics, grubextrapolate for charting guitar and bass for 3 Cure tracks, the video preview makers and everyone else. See you next time!