Thanks Septekka for the graphics!
Hello, and welcome to Barcelona, Spain, and more specifically - to Primavera Sound Festival!
Founded in 2001, Primavera is now one of the major festivals in the world for Alternative music. Despite becoming a huge event, it's still committed to quality music and headliners, which makes it quite unique today. It's also my personal favorite, having attended it three times and seen countless great bands there. So get ready, we have quite a ride!
This weekend we will not only play a lot of great music, but we'll try to experience the festival first-hand. For starters, I'm happy to announce that this weekend will be the first C3X multi-day event.
Which means - today we'll have a great day at the festival, with a lot of bands and one great headliner. And tomorrow - we'll come back for another day, with more bands and a second great headliner! Just like a real festival.
So make sure you come back here tomorrow to enjoy the second day! The fun isn't over today!
So, let's begin! Primavera Sound is located in Parc Del Forum, which is about 20 minutes metro (L4 line) away from the center of the city, just near the sea. If you arrive early, you can walk to the beach and take a nice swim. From the air, the place looks something like this:
We arrive on site, music lovers are everywhere, and the excitement can be felt in the air. But first, we'll have to stand in this line...
And get ourselves a nice bracelet and card!
And now we're ready! Time to explore around. To get to know your surroundings, where you'll be spending the next couple of days, you can take a look at this map:
So now, it's time for music - we have a busy day ahead! We'll start just across the sea, at the Pitchfork Stage.
17:40-18:20, Pitchfork Stage - Unwound
We'll be starting our day at the Pitchfork Stage, where we'll catch the great post-hardcore band Unwound.
Click the visualizers to download!
Video Preview
Custom by Septekka, who writes:
"A seminal mid-late 90's post-hardcore act hailing not from the famous DC hardcore scene, but rather from the west coast's Washington, Unwound are often compared with Fugazi not only for putting out some of the finest records in their genre, but for transcending it with their definitive final album statement. Following revered 90's records such as New Plastic Ideas and Repetition, Leaves Turn Inside You was released to widespread acclaim a year after the turn of the millennium, and saw the band fully exploring artsier and more experimental styles fringing on art rock and even post-rock. A very cold, somber, and desolate affair, LTIA creates an atmosphere in a way few other records can.
"October All Over" is perhaps one of the less "hardcore" songs on the album, with more of an melancholic indie or art rock vibe. It alternates between slower half-time sections with a catchy guitar riff, and driving, upbeat parts, all the while driven along by an instantly memorable drum groove with a very distinctive tone. Mellotron lines hover hauntingly and gently over the mix, while the vocals remain more subdued amongst it all - meanwhile, the center of the song features a reversed guitar solo with an almost psychedelic undercurrent".
The crowd cheers as Unwound finish their set, the first of many great ones we will experience this weekend. And now we have some time to kill before the next show. So we can chill a bit, maybe have us some beer...
(Which brings us to the worst part of the festival - they only sell Heineken...)
So our break is over, it's getting darker, and it's time to hurry to the nearby Primavera Stage, to catch another great band. It's getting pretty crowded by now, as you can see:
19:30-20:20, Primavera Stage - Sunny Day Real Estate
Legendary emo band Sunny Day Real Estate have taken the stage, and they're playing an epic career-spanning set. Near the end of the show, there's a huge cheer as the band launch into one of their trademark songs, "Guitar and Video Games" from their landmark 1998 album "How it Feels to be Something On". And what a song it is! "Guitar and Video Games" is one of the band's most essential tunes, and quite possibly genre-defining for alternative emo. Pitchfork said this song "strike at the heart of all that makes us human" and called it the band's "most beautiful, essential ballad", and for a good reason. It translates beautifully to RB - full of guitar lines and arpeggios, melodic bass, and a rousing climax which includes some epic drum rolls and a huge chorus, as vocalist Jeremy Enigk ask "What if we refuse to follow the rules of fashion?". A classic song and one I love playing. 
They have released 3 of their tunes on RBN, but this is their first custom in this DB.
Here's a picture of the band from their actual Primavera 2010 concert:
We're high on the show but we have no time to chill, we have just ten minutes! Time to head over to the Ray Ban stage for the next show.
20:30 - 21:25, Ray Ban stage - Mark Lanegan
Mark Lanegan is one of the greatest little-known musicians of the last decades. He's been around forever - first as the frontman of successful grunge band "Screaming Trees", than on a lengthy and brilliant solo career, than being a full-time member of Queens of the Stone Age (and signing lead in a bunch of songs), not to mention working with Kurt Cobain, Greg Dulli of the Afghan Whigs, and many more.
And now he takes the stage, and in the end of the great set, he whips out this rare, classic tune. From his critically acclaimed masterpiece "Whiskey For the Holy Ghost", "Borracho" is an absolutely wild, epic tune, and one of the best Lanegan has written in his life. It's quite a unique custom too, slowly accelerating changing tempo from 80 to around 140 BPMs (those aren't cuts between different sections - it's a slow, steady rise in tempo), featuring some wild drumming by Dan Peters of Mudhoney, and a wild guitar solo. And of course, Lanegan itself with his signature gravely voice, often compared to Tom Waits and Leonard Cohen, is at full force here, shouting and giving it all, in an hard-hitting, emotional and personal song about his alcohol addiction.
Just watch the video preview, it's a wild ride.
Here's Mark from his actual Primavera 2012 performance:
So now we face the long walk, about 10-15 minutes, between the west area of the stages, to the east area of the main stages, to catch the main acts of the the day. We have 30 minutes, so we should make it, but we also want to catch a good spot... and we've finally reached our destination, the Mango stage:
Where we will find a true indie legend playing:
21:55-23:00, Mango Stage - Pavement
So it's time to find a spot, the crowd is already huge. But we manage to sneak in and get a decent spot. Pavement take the stage, kicking up their set with their huge hit "
Cut Your Hair
" (Here converted from GH by MrPrezident) - and the crowd goes wild. As they go through their hits, mid-set they pull of this huge rocker: 
This is Pavement's third full band song in RB, and it's yet another track from their masterpiece "Crooked Rain, Crooked Rain". "Unfair" is wild, energetic, brilliant rock and roll. It's Pavement at their wildest and best, and it's brilliant on every instrument, drums are wild and full of fills, guitars are great with some difficult tremolo picking at the end, bass gets wild too, and vocals are great as always, and will end up with you screaming "TRAAASSHHH!" on top of your lungs. Enjoy it.
They finish their set with their classic tune "Gold Soundz", as the crowd cheer enthusiastically. Here are Pavement from their actual Primavera 2010 set:
It was an amazing show, but no time to enjoy the moment as we just have ten minutes to go to the opposite side of the field, to the Seat stage right across, to catch the headliners of the day:
23:10-00:40, Seat Stage - Talking Heads
Our headliner of the day are the legendary Talking Heads. Most of the pack was charted by nsw1-6, so I'll let him do the talking this time around. Here we go:
"Nsw1-6 here,
Talking Heads holds a special place in my heart. Even though I'm a guy that listens to complex, dense and wandering music, I sometimes revel in the simple and sometimes inane. Talking Heads fills that little space. Since the prime focus of this concert was around the 80s, I chose to pick tracks from their post-Fear Of Music selections *coughtheirpeakcough*. Here four albums are represented, filling in some of the overlooked spaces currently available in the Rock Band Collection. It doesn't seem as big as it could of been, but it's the biggest release of Talking Heads for Rock Band since the RB2 pack over 9 years ago (REJOICE!).
Special thanks to Yaniv for doing Overdrive/Unison Phrases on all four tracks.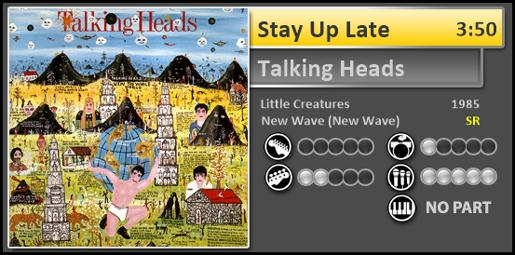 Song Suggestion: TheSheepQueen
Audio Source Lineage: 1985 Digital Master -> 1985 US CD or Later Reissue -> EAC -> Audacity (EQ and Amplification)
You know, that one with the band on bungie chords and white suits? Also, do babies really need sleep? C'mon! "He's just a plaything".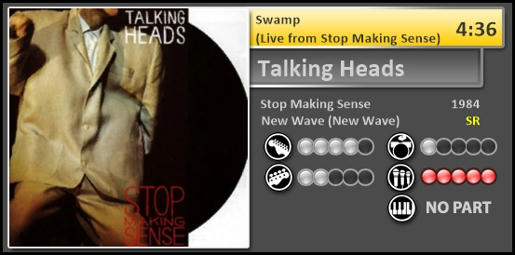 Audio Source Lineage: 1984 Master -> 1999 Remaster/Expanded CD -> EAC -> Audacity (EQ)
When one does work with Mafiosos, one can expect a lot of blood spilt on the floors. Just don't get too tangled in that swamp, it'll leave permanent stains. This version was selected over the studio one because there's a bit more oomph to it, plus it's shorter.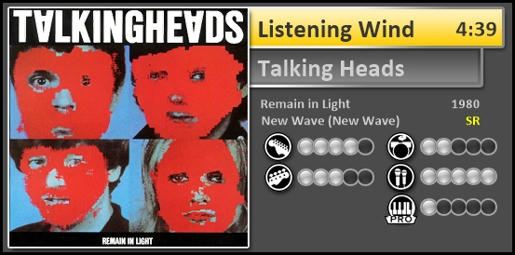 Audio Source Lineage: 1980 Master -> 1984 CD Reissue -> EAC -> Audacity (EQ and Amplification)
One of the lesser known tracks off the album, but I learned about it through Peter Gabriel's cover on his "Scratch My Back" album. Making heavy use of processed drum samples, exotic percussion and a whole lot of volumed guitar (courtesy of Adrian Belew), this song details the story of retaliation from a Middle Eastern boy (not exactly clear) who becomes fed up with Americans invading and encroaching upon his people's land, calling up on the power of nature and his ancestors to drive the foreigners back.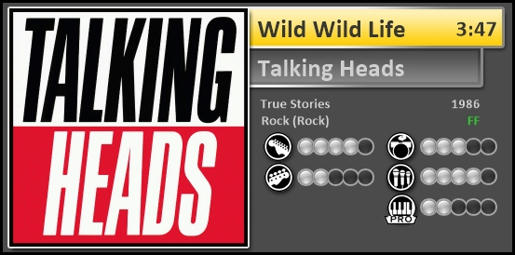 Audio Source Lineage: 1986 Digital Master -> 1986 US CD -> EAC -> Audacity (EQ) 
Probably THE track off this underappreciated record, painting brief pictures of various forms of "wild life" in the modern era of 1986 in the most upbeat manner possible.
Note: This is not all the Talking Heads I am doing, you will see more in the future ;)"
So Talking Heads have played this great set, full of hits and classic such as the four tunes above, "
Life During Wartime
" (charted by Sygenysis), and if you have the RB2 import and official DLC, you can add 7 further tracks and make a great set.
They finish off their set, and the first night of our festival, with the following song:
Custom by yaniv297
Vocals by atruejedi
Yet another track from the masterful concert film "Stop Making Sense". A true Talking Heads classic, "This Must be The Place" was described by David Byrne as a "real honest kind of love song. I don't think I've ever done a real love song before. I tried to write one that wasn't corny, that didn't sound stupid or lame the way many do. I think I succeeded". And indeed, he wrote one of the great love songs of our times, and a unique moment in their discography. 
This custom was in the making for a while (probably too long), and now it's finally here. Vocals are the star here, charted beautifully by atruejedi. Keys are also quite a great chart, guitar is more challenging and fun than expected, while drums and bass keep it all steady. My personal favorite Talking Heads song, finally in RB in its best version and all its glory.
So that's it for today. We're tired, our feet are hurting, but we're also overjoyed to have witnessed some great bands and music. Time to go back to the hotel, take a nice shower, and have a good night sleep. We'll have the morning free tomorrow, enjoy the beautiful Barcelona a bit, maybe have a nice local sangria in the sun.
But remember, this is just day one - tomorrow after our free morning, we'll be back onsite, fresh and ready for more great music. So remember to check back here tomorrow - we'll be back for another day of quality concerts, and another legendary headliner. Don't miss it! 
In the meantime, I hope you enjoy all those great tracks today. Special thanks to nsw1-6, Septekka and atruejedi for their assistance today, and for the video preview makers (Some of them will only be up tomorrow). See you tomorrow!