"Roses are red, the sky is blue
I got my barrel at 'cha neck so what the fuck you gonna do?"
Have you ever wanted to adopt the persona of a complete bad-ass? So did the Beastie Boys. Now you can pretend to pretend to be a bad-ass, just like Adam, Mike, and Adam! Fake it to make it, I always say.
 
Click here to go to the database entry.
This Rock Band 3 custom song, 3-Minute Rule by the Beastie Boys, is my seventh custom and the first song from these hip-hop icons' absolute best album, 1989's hip-hop masterpiece Paul's Boutique. If you disagree with my assessment, you're wrong.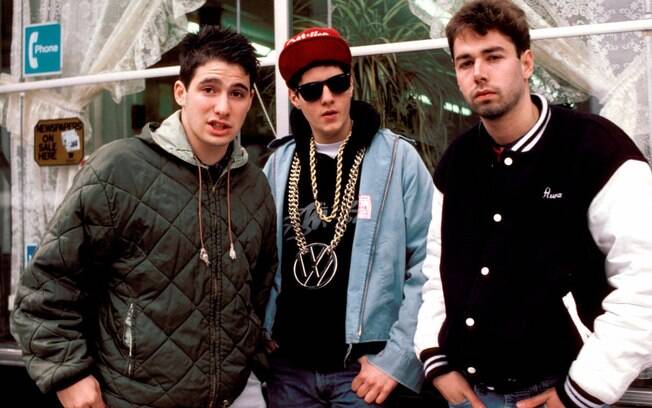 And if you don't like it then hey fuck you.
My first proper experience with the Beastie Boys was listening to 1998's Hello Nasty at a party on the eve of the turn of the millennium. From there, my interest grew until I discovered Paul's Boutique and realized there was simply no way it could get any better than this. And as I explored their discography, I was proven right.


[Gameplay video courtesy of MrPrezident]
Features:
Fully custom venue from scratch
Unpitched vocal chart from scratch
White boy dryvox lip sync for all three raps
No vocal tonic note because rapping
Reductions for bass and drums (keys and pro keys are too simple to merit reductions)
Numeric ID for Wii leaderboards
Drums by Whizzer

Now don't get me wrong: I enjoy the Beastie Boys throughout their many metamorphoses. But as I grew into a bona fide hip-hop head, I realized there's no debating that their sophomore album isn't one of the ultimate hip-hop experiences. The lyrics are absurd, obscure references, hyperbolic lies and braggadocios claims, the samples are vast and varied, and every sound oozes swagger. I don't know how the Dust Brothers did it, but they clearly deserve a substantial portion of the credit for producing this now-legendary record. Without their input and guidance, I doubt Paul's Boutique would be half as impressive.

3-Minute Rule is unique for a Beastie Boys song. The vast majority of their catalogue features lyrics that bounce back and forth between the three emcees as they play off of each other. But not 3-Minute Rule. Here, each rapper takes a single turn at the microphone to spit some bars before retiring to the background. That's it. There's no hook. There's no chorus. There's no hype man. It's just an unapologetically simple song that showcases stripped-down hip-hop that gets back to the basics: no flash, no spectacle... only rhymes.
I chose this song because (1) I love it and (2) I thought it would be easy to tempo map. It wasn't. I kept putting tempo markers everywhere at ever-so-slightly incorrect BPMs but then I realized-- this song consists of a looped sample! If only I could determine the exact BPM down to the decimal places, I could set it and forget it... it took a bit of trial and error, but I found it, and bam!
Instrumentally, this song isn't anything to write home about. The drum chart, courtesy of Whizzer, is intense, representing a repeated sample lifted from a song called Feel Good by a band I've never heard of called Fancy. Neat? Either way, it's a workout.

The smooth, sexy bass part is simple enough, but if you get lazy and don't pay attention it will trip you up with its unpredictability. Don't be a dope.

Since there's no guitar at all featured in this song, I decided to jam into the keys slot whatever would fit appropriately. It ain't much, but it's something to do. Because it's so simple and sparse, I rated it at zero difficulty. If you have a suggestion on how to fill it out a bit more, hit me up. Until then, hey, at least it gives Mike D somewhere to stand on stage

"He should be sitting behind the drums! Some fan you are."

Technically, you're right. But let me talk about the venue for a moment...

Getting Mike D to lip sync from behind the drums was going to be too much work, bro. But don't worry! MCA is playing bass and Ad-Rock has the microphone in place of a guitar. To break it all down for you:

The first verse is performed by Mike D (the band's drummer) at the keyboard using the HARM2 slot.
The second verse is performed by MCA (the band's bassist) on the bass using the HARM3 slot.
The third verse is performed by Ad-Rock (the band's guitarist) on the microphone using the HARM1 slot.

This song also gave me the opportunity to utilize multiple post-processing effects. Typically I avoid using them just for the sake of using them, but it felt appropriate to jazz it up a bit with this song, so I went wild compared to my typical venues... which is to say I used more than two effects. Prepare yourself.

I'm not ashamed to admit I completely fudged some lyrics for this custom. Despite what lyrics websites claim, during the third verse, I do not hear this:

'Cause I'm running things like some mack motherfucker
You'll be slipping your slack in your face 'cause your a false fake sucker
You slipped your slack, you cock me and you're wack
While I'm reading On The Road by my man Jack Kerouac

Nor do I hear this:

'Cause I'm running things like some mack motherfucker
Your only claim to fame is you're a false fake sucker
You slip you slack, you clock me you lack
While I'm reading On The Road by my man Jack Kerouac

So I made up the following because I was the dude having to rap it into a microphone for dryvox:

'Cause I'm runnin' things like some mack motherfuck
And you'll be slippin' an' slapped in the face 'cause you're a false fake sucker
You slit your slat, you plot me a new lack
While I'm reading On The Road by my man Jack Kerouac

I realize the bolded portion makes little (or no) sense, but it's my best guestimation. If you have a better idea of what the hell Ad-Rock is saying here, I'm all ears... if I agree with what you're hearing, of course.

If you'd like to contribute improvements or animations or if you have suggestions for how I can do better, please contact me. Thanks for reading. Now go grab this custom.

Atruejedi

P.S. That final lyric is completely fudged as well, but it's cool, so shush. And here's a bonus gameplay video from Fat Ha1p3rt!