This thread will be probably the only place I will post new charts, and I may contribute to other projects on the forum.
Links
Notes
Links 
Notes
U2
Even Better Than the Real Thing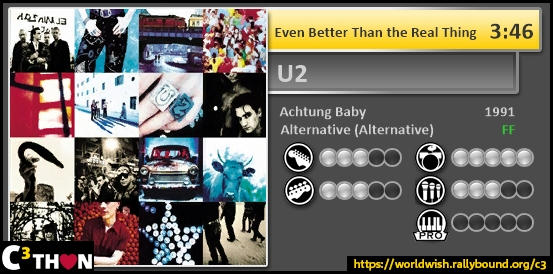 Video Preview
 
Electrical Storm (William Orbit Mix)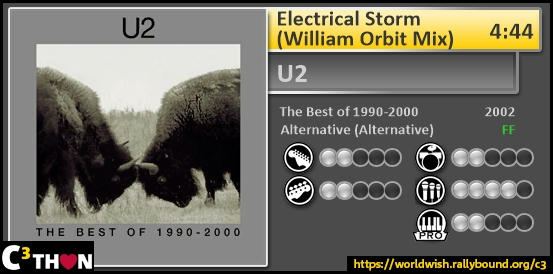 Video Preview

Audio Source: Original CDs
 
OD/Practice Sections: TomGuy
Last Minute Assistance on EBTTRT: Fat Ha1p3rt
 
 
Audio Source: 1987 CD
Audio Source: 1987 CD
Audio Source: 1991 CD
Audio Source: 1993 CD
Audio Source: 1993 CD
Regarding Files:
I understand that most of this forum works with Rock Band customs, but please understand that most of my work is prepared for FoFiX/PhaseShift. I'm beginning to learn to use Reaper, but I am still comfortable and skilled with using Edits on Fire, which automatically creates the midis for Rock Band separately. Base work will be done in EoF first, then sent through Reaper for finalizing.
Regarding Audio Sourcing and Quality:
In the past, I have had complaints about audio quality, and knowing that this being a somwhat professional forum, there are higher standards to quality.
Please understand that nearly half of my music collection is taken from used vinyl records, all of which come from by-gone eras, and includes a lot of the music I intend to chart. Every vinyl I possess has been cleaned with isopropyl alcohol and digitally transferred using Audacity with click and noise removal applied. The degree of success on this depends on the quality of the medium (i.e. the amount of scratching, roughness and skipping). Thankfully a good portion of this music has come from my parents' collection, who took really good care of their records.
Hence, most of my records are free of terrible quality, though I have had cases of really bad copies (Journey's Infinity, Traffic's Low Spark of High-Heeled Boys), cases of copies that could be better (Jethro Tull's Aqualung, Yes' Going For The One and Genesis' The Lamb Lies Down On Broadway), and cases where I need to redo the digital conversion (Vangelis' Albedo 0.39 and a few others). The only other issue here is the effect on the tempo, which can be due to the mastering on the record itself.
If I have determined (or asked by others) that the vinyl source is bad enough, then I will try to find another source for the audio, or anyone here on the forum is free to help provide it. To give warning and compensate for any of these issues, sourcing information for each song / pack released will be included, and any additional modifications made.
Regarding File Quality:
My charting abilities have evolved over the years, ranging from not fretting enough (long ago), to about 2012-2013 when I was over-charting. It was only since mid-2015 that I really started to hone on what was being played. This is directly related to training my ears, but believe me, I have noticed that the biggest culprit here can be the mixing quality.
My methods of tempo-mapping have changed as well. I was able to chart fast and properly for a while, but I found that it really depends on how tight the musicians stick to the tempo. Sometimes charts were worked over a period of time, and some packs may include songs where I did not go back and fix the tempo maps to be as pristine.
Upcoming Stuff:
See my WIP Thread, in my signature.