LATEST UPDATE 6/24 - Weird Al Yankovic - The Check's in the Mail
GUITAR: BassSinger313
STANDARD KEYS: FujiSkunk
STANDARD KEYS: MrBurpler
UPDATE NOTES:
This chart was originally based on the work of 
nsw1-6
 but it's been completely overhauled with a new tempo map, audio source, venue, redone bass and drums as well as pro keys finally added. If you grabbed the old don't hesitate to pick up the new one.
ABOUT THE SONG:
"Take Five" was the third track on the album Time Out, recorded in 1959. That was the year Miles Davis and Gil Evans introduced the jazz audience to modal music with the landmark album Kind of Blue, John Coltrane released Giant Steps and Art Farmer and Benny Golson formed their first jazztet. A lot of new things were happening in jazz in those days, but rhythmically, the music was still being played mostly in four-four time. Brubeck had always been interested in polyrhythm and polytonality. The first theory is what drives African music; the second is tied closely to classical. Brubeck had been playing in odd time signatures back in the late 1940s, but it wasn't until he returned from a trip to Turkey in 1958 that he thought about doing an entire album in different time signatures, like six-four, three-four, nine-eight and, in "Take Five," five-four.
"Take Five" includes one of the most thrilling drum solos ever recorded, a 2:20 master class in percussive accentuation, colorization and structure. Unlike the rest of Time Out, which was composed by Brubeck, the tune was written by alto saxophonist Paul Desmond. "It was never supposed to be a hit," Desmond said later. "It was supposed to be a Joe Morello drum solo." Morello had joined the quartet in 1956 over Desmond's initial objection: the saxophonist was concerned that Morello's muscular style would jar with his own lyrical approach. Desmond was won over, and when the composer royalties for "Take Five" started pouring in, he must have been relieved Brubeck had stood his ground and insisted on hiring Morello. 
GUITAR: TheWizard
DRUMS: MrBurpler
GUITAR: Mb1nightmare
GUITAR: SuperRiderTH
GUITAR LEFT HAND ANIMATIONS: ghostbyob
Mixing a variety of incisive riffs, trampling beats and rapidfire vocals, "Reborn" is a song for intense cardiovascular exercise – providing you're willing to risk having your aorta burst open midsong. The lyrics are about a witch sentenced to die, but who has "signed the book of red," promising immortality; hence, the song title.
GUITAR/BASS/STANDARD KEYS: yaniv297
There is something about Bruce Springsteen's "Incident on 57th Street" that makes it ethereal. How you can pen such a profound and meaningful song in your early 20s, as Springsteen was when he released 1973's The Wild, the Innocent and the E Street Shuffle, is nothing short of phenomenal. It's that cinematic style of writing he engaged in so early on and let a story unfold that makes us feel like we are there, living it with the characters, Spanish Johnny, and Puerto Rican Jane.
The whole freaking song is a masterpiece. From the delicate piano in the opening bars, and the bending notes on that Telecaster, to the lyrics, music, imagery, and storytelling, all of it is nothing short of spectacular. And that solo to take the song out, absolutely incredible. If the song isn't considered out of this world, it should.
GUITAR: dr waffles
GUITAR/BASS: ejthedj
VOCALS: EchoOfMystery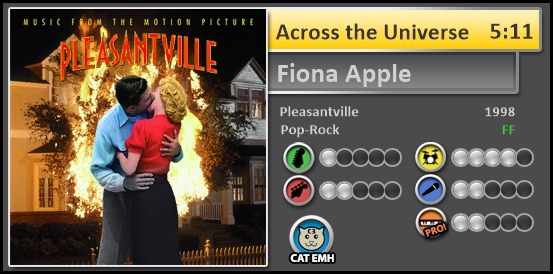 GUITAR: Oddbrother
VOCALS: BornGamerRob
STANDARD KEYS: FujiSkunk
Recorded for the 1998 movie Pleasantville, Apple's rendition of the Beatles' "Across the Universe" is easily her best cover. The song takes on a placidity that suits the strange nuclear family at the heart of the film, with Fiona's serene "jai guru deva om" chants almost serving as a balm. The Paul Thomas Anderson-directed video is also a treat: Apple walks peacefully through a riot that takes place late in the film, her calm at odds with all the chaos. "Nothing's gonna change my world" indeed.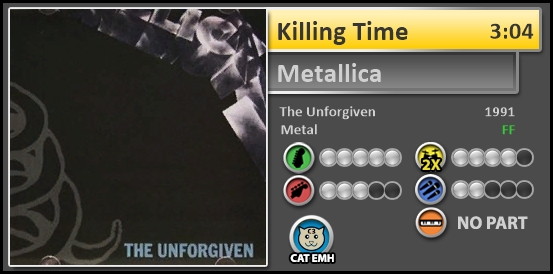 GUITAR: SteveHasAMustache
GUITAR: BattlePenguin
CHICAGO (THE CHICAGO CHRONICLES)

Chicago Transit Authority (1969)



Chicago II (1970)



Chicago III (1971)

Chicago IV (1971)
Chicago V (1972)


Chicago VI (1973)


Chicago VII (1974)


Chicago VIII (1975)

Chicago X (1976)

Chicago XI (1977)

Hot Streets (1978)

Chicago 13 (1979)


Chicago 14 (1980)


Chicago 16 (1982)

Chicago 17 (1984)


Chicago 18 (1986)

Chicago 19 (1988)