LATEST UPDATE 5/22 - Soundgarden - Mailman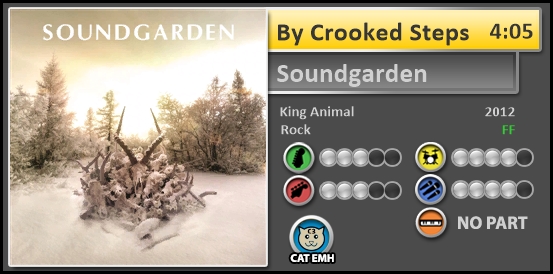 GUITAR: Fbs13
Soundgarden's famous odd time signatures evolve further on standout "By Crooked Steps." Cornell soars above jackhammering guitar parts and straight-ahead drumming, a mismatch that somehow sounds natural while claiming new ground for the band.
GUITAR: ghostbyob
DRUMS: MrBurpler
On "Flower" Cornell's devilish delivery ­– guttural yet knowing, extending vowels like they're made of Play-Doh – is a complement to his withering lyrics, which tell the tale of a young woman whose fast-living lifestyle results in dying young. 
GUITAR: nicholasp248
Power Trip shows that Soundgarden were undeniably a Led Zeppelin influenced band, with bluesy guitars, emotional, 70s like vocals from Cornell, and interesting, poetic lyrics.
GUITAR: SteveHasAMustache
Cornell's moving, understated solo contribution to the Singles soundtrack grew out of a piece of fiction: a solo cassette made by Matt Dillon's Cliff Poncier after parting with his band, Citizen Dick. Cornell took it upon himself to actually write songs for the tape, one of which was this reflective folk ballad. "Holy shit, this is Chris Cornell, as Cliff Poncier, recording all of these songs, with lyrics, and total creative vision, and he has recorded the entire fake, solo cassette," director Cameron Crowe recalled of first hearing the EP that would come to be known simply as Poncier. "And it's fantastic. And 'Seasons' comes on. And you just can't help but go, 'Wow.' This is a guy who we've only known in Soundgarden. And of course he's incredibly creative, but who's heard him like this?"
GUITAR: SteveHasAMustache
VOCALS: EchoOfMystery
New Jersey based rock trio Pseutopia released a brilliant cover of Seasons last year featuring former Pearl Jam drummer Dave Abbruzzese. According to the members: We were deeply affected by Chris's untimely death. As one of our strongest influences we felt almost compelled to pay our respects and tribute to him. "Seasons" is one of his masterpieces and one of our favorites. We really hope we were were able to do justice to this great song and the genius of Chris Cornell. We sent Dave the demo of "Seasons" that we had done. He was really impressed with our version and was on board to play on the track. Dave is a true inspiration and joy to work with. He is one of our heroes and for him to play on our tribute to Chris is just surreal.
GUITAR: EchoOfMystery
By far the heaviest song on the album, "Mission" is a song that is fitting only for a badass.  Chris Cornell belts out some outrageous screams all while heavy guitar erupts around him. The mercilessly mocking lyrics fit the music like red wine fits a steak dinner. Only, this steak is bloody. Cornell rips this song apart with his voice. Mission is a great time that likely killed this man's vocal chords.
GUITAR: EchoOfMystery
"Pillow of Your Bones'" lyrics are poetic, the acoustics are deep, the bass is wild, and the guitar is robust. I especially love the calming, almost trance-like chorus. It's flavored with some more subtle Middle Eastern melodies, giving it an overall mysterious vibe.
GUITAR: EchoOfMystery
The main guitar riff of Wave Goodbye sounds a lot like something that Phish would play. In other words, it's funky. Wave Goodbye retains a rockish sound, but the funky guitar and gliding bass keep it from being a hardcore rock song. I don't mind the sound at all, as it makes for some easy listening. Cornell wrote this for his good friend Jeff Buckley, who had recently died and said that it was one of the most straightforward songs that he has ever written.
GUITAR: Sunfire Cobra
"Blood On The Valley Floor" is cleverly reminiscent of Black Sabbath and features a bone crushing main riff. The song presents a desperate scene of genocide and senseless violence: "And the blood dries/while we spill/some more". Specifics are, of course, not to be found. Is it a physical event, an inner violence, or a metaphor for a society or culture as a whole? My continuing impression is of hell itself, with the damned tumbling down to where "the smoke lies on the valley floor".
CHICAGO (THE CHICAGO CHRONICLES)

Chicago Transit Authority (1969)



Chicago II (1970)



Chicago III (1971)

Chicago IV (1971)
Chicago V (1972)


Chicago VI (1973)


Chicago VII (1974)


Chicago VIII (1975)

Chicago X (1976)

Chicago XI (1977)

Hot Streets (1978)

Chicago 13 (1979)


Chicago 14 (1980)


Chicago 16 (1982)

Chicago 17 (1984)


Chicago 18 (1986)

Chicago 19 (1988)