Link for my spreadsheet with all my customs

6/15
Mr. Bungle - Squeeze Me Macaroni


Overdrive, expert only. Pro drums = yes
Song charted by Blitzbob (for Drum Project 4), it was pretty much ready-to-use for RB3 (I didn't even have to open Reaper !).




Frank Zappa - Apostrophe


Expert only, no overdrive. Pro drums = yes
Charted by Narutostarwars123456 (for Drum Project 5)

Vadrum - Ringtone Medley



Expert + CAT EMH, no overdrive. Pro drums = yes
Charted by 1Upbassist for Drum Project 4.

Vadrum - Infernal Gallop


I finally managed to get Python+CAT working at this point, so this song has CAT EMH
I'll use it for my upcoming converts. No overdrive. Pro drums = yes
Charted by 1UpBassist for Drum Project 4.




Vadrum - William Tell


Expert only with overdrive. Pro drums = yes
Charted by Blitzbob for Drum Project 4.



Snot - Snot


Charted by Sygenysis.
Pro drums = yes
Overdrive on drums : yes
Vox: talkies only, overdrive



6/20
Rodrigo y Gabriela - Hora Zero



- Added solo events and overdrive
- Fixed the HoPos by forcing them (otherwise it'd have been unplayable)
No bass unfortunately, it wasn't included in the FoF version

Chart by Angevil for Angevil Hero V

Vadrum - Vadrum meets Super Mario Bros 2

[/url]
Pro drums: yes
Expert + CAT EMH, No overdrive
Original chart by Breadache


6/25
Melt Banana - Shield for your Eyes a Beast in the Well on your Hand


Pro drums, overdrive, CAT EMH, cymbal rolls and some really good challenge for drummers

Original charter: Mrstuprigge (Drum Project 3, tier 9)




(video preview available soon) -> listen to the song here

Aphex Twin - Cock/ver10


Pro drums, no overdrive, CAT EMH.
Original charter: TheLieInKing. He might have posted this as rba files a while ago, but I could only find it in FoF format. I added pro drums even if it was pretty hard to tell whether it was supposed to be a cymbal or a tom given the genre of this song

Update! The audio was off by +5 seconds, so please redownload the song if you downloaded it before 10/24



07/12
Primus - My Name is Mud



Original guitar and bass charts by Logan812, drum chart and convert by me.
If anyone's willing to chart vocals for this (to make this a full-band custom song), it'd be really appreciated.


07/13
Primus - Golden Boy



Original guitar and bass charts by Logan812, drum chart and convert by me. Same as before, I don't know how to chart vocals but if someone's up for it, I can share the reaper project file


07/20

Eduard Khil - I Am Glad, Cause I'm Finally Returning Back Home


This song features full band (vocals charted by Moomoomoo1, everything else by me), unison phrases, expert + CAT EMH...
Guitar: flute, violin
Bass: double bass
Keys: sax, keys
Pro keys aren't charted.



08/02

Frank Zappa Drums 3-pack !

Frank Zappa - Montana


Original charter: Doomtron

Frank Zappa - Black Page


Original charter: Doomtron

Frank Zappa - Don't Eat the Yellow Snow suite


Original charter: narutostarwars123456

Mr. Bungle - Quote Unquote


You might have seen this in my WIP thread. I was looking for someone to author vocals, but I got no answer. However Nunchuck offered his help and fixed the reductions manually, and adjusted overdrive. Thanks a lot to him !

10/02

Suicidal Tendencies - Suicide's an Alternative, You'll be Sorry



Here's what was at first a song I used to do my quick FoF to RB3 tutorial. This convert is pretty basic and is more similar to the first conversions I did (although I added pro drums and made some changes to the guitar chart).

Scott Pilgrim - Threshold (original version)


Here is one song in two different versions: one is a covered, multitrack version which was really helpful for authoring; and the other is the original version in case people prefer this one and don't care about multitrack.
Vocals are authored, for once, but not in a great quality. It was my first attempt charting vocals and turns out it's authored higher as it should be.


Scott Pilgrim - Threshold (cover, multitrack version)



Primus - Coddingtown



Original guitar chart by FrOogle, I added drums, bass, overdrive (unison phrases) and practice sessions.


The 88 - At Least It Was Here



Thanks a lot to DoNotPassGo for fixing my tempo map!


10/17

Arctic Monkeys - The Jeweller's Hands



Great song with a great ending on drums. Featuring overdrive, practice sections, and all that.



10/19

Frank Zappa - Muffin Man


Original charter: Meander. I added overdrive, thrills, drum rolls, etc.


10/24
Ok Go - Television, Television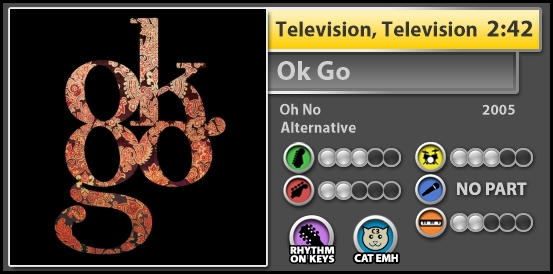 I love this song and I was wondering why it wasn't featured in any GH/Rock Band game, so I charted it. It features guitar, bass, drums, and rythm guitar on keys; although I'm not sure if this part was really necessary.

10/31
Frank Zappa - Peaches en Regalia


Since it's an instrumental, it's full-band for once
This was particularly hard to chart because of the buried bass track and... because it's Frank Zappa!
I used Blitzbob's drum-only chart to add the other instruments and all the bells and whistles: overdrive, solo events, practice sections (I never thought I'd ever use that Flute solo a section!), etc. I hope the bass chart is good enough, but from what I've seen, it's more than playable.

11/10

System of a Down - This Cocaine Makes Me Feel Like I'm On This Song


Charted by Blitzbob (Drums) and Maupy2 (Guitar).

11/11

Mr. Bungle - Slowly Growing Deaf



11/18


French songs 4-pack

Izia - Hey Bitch!


She's a French singer and my GF's favorite artist. It features a pretty cool guitar solo too!

Stuck in the Sound - Brother


You may know them from their song featured on GH:WT, Toy Boy. This song has a nice groove and it seems pretty fun on drums!

NEW! Dionysos - Song for Jedi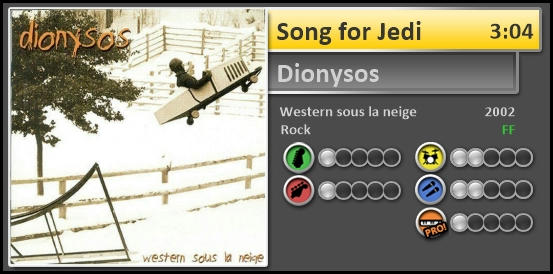 One of Dionysos' most famous songs, sung both in English and French.

Shaka Ponk - Palabra Mi Amor


I don't like Shaka Ponk that much, but I gotta admit this song is awesome! Partly because it features Bertrand Cantat, formerly Noir Désir's singer, and a long guitar solo as well!

12/09

The Distillers - Dismantle Me




12/19

Hanni El Khatib - Skinny Little Girl



12/21
Red Fang - Good to Die


Great guitar solo on this one, the song looks really fun on every instrument.

12/24
Nigel Godrich (Scott Pilgrim OST) - Bass Battle



Bass is Scott's part, guitar is Todd's part, and keys is both. I used this video to help me chart the song.


12/28
Soft Machine - Why Are We Sleeping?


Here's a fun song on drums, probably the hardest I ever charted. Two drum solos and challenging fills.

01/17
Manfred Mann Chapter Three - One Way Glass



Here's a quite challenging song on keys with two sax solos. Guitar is only a copy-paste of the keys track. It's one of those songs with a "Ohhhh, THAT song" moment, since it was covered by The Prodigy for the Kick Ass soundtrack in Stand Up.


01/25

Multitrack songs 3-pack!

Pryapisme - Un druide est giboyeux lorsqu'il se prend pour un neutrino


A song from a french band I really like. This song (and the music video) encountered a pretty large success on YouTube (almost 800 000 views). Thanks a lot to these guys for handing me over the song stems


Progrom - Motmom


This song was made by my brother's band (he's the guitarist), they do experimental rock. I charted vocals, but it's just gibberish, similar to what you'd hear in a Magma song (a french Zeuhl band
).




Nine Inch Nails - Echoplex


Echoplex was one of the song stems that Trent Reznor made available. It's a good song to listen to, but in term of playability it's highly repetitive (especially on drums). I tried my hand at authoring vocals too, I hope I didn't mess it up too much.




02/07
Hanni El Khatib - Mexico


My favorite song out of his new album that came out last month. It should be pretty fun on guitar and drums




02/15
Lil Deuce Deuce - asdfmovie7 song





Primus - Tommy the Cat (Live)


Not really a song I worked on, but I found it in the "old customs" spreadsheet and it didn't appear on my Xbox, so I rebuilt the song with another song ID and added CAT reductions. Charted by GanonMetroid.


Philm - Fire from the Evening Sun


A song from Philm, a.k.a Dave Lombardo's new band. It's pretty cool and fun to play, I wanted to chart unpitched vocals but this band is so unpopular that I couldn't find lyrics (and it's pretty hard to understand what the singer sings during some parts). x)

03/24

Red Fang - Blood Like Cream


A great song which came with a funny music video. It features two guitar solos! Vocals are unpitched.




Gong - You Can't Kill Me


Daevid Allen, founder of Soft Machine and Gong passed away on March 13th, so I figured it was the good time to chart some Gong and pay him a tribute. This song is particularly fun on every instrument, with 3 sax solos, 1 guitar solo and a weird, Llama-like beat on drums.
Vocals are unpitched as well.




04/05

Didier Super - Comme un enfant au Brésil



Here is an offensive/funny song from French singer Didier Super. Everything stands on the lyrics, so it won't interest most of you. As for the French people on these forums, amusez-vous bien !




05/21

Death - The Philosopher


2x bass pedal version
This is a convert from FoF forums and charted by Meander. I corrected a few things (HoPos, note lengths...) and did the conversion.


Ange - Le Nain de Stanislas



06/12
Izia - Your Love is a Gift


Audio preview

Mr. Bungle - The Girls of Porn


Audio preview (warning: REALLY NSFW)

06/21
The Dresden Dolls - Girl Anachronism




07/04
An Albatross - I Will Swim Into the Lazer Eye


The main riff on guitar is sick! I may do more from them in the future since their songs are fun to chart and short.

Video preview

Arctic Monkeys - Don't Sit Down 'Cause I've Moved Your Chair



Video preview

07/21

Mr. Bungle - My Ass is on Fire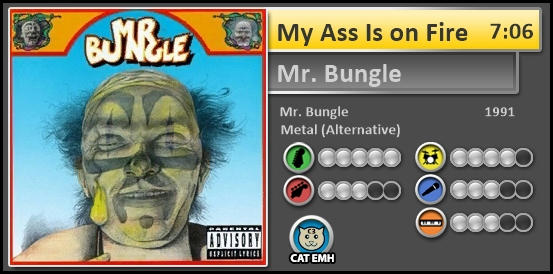 Great song. It was a mess to tempo map, though.

Video preview

An Albatross - The Electric Proletariat Rides A Velvet Chariot




Crazy song, it has an average BPM of 220 and it goes up to 250 during the outro. Fun on all instruments!

Video preview

08/01

Frank Zappa (The Mothers of Invention) - Oh No / The Orange County Lumber Truck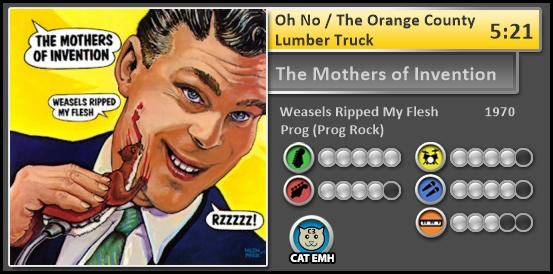 Great song, and fun on all instruments! With 3 guitar solos, a short keys solo and vocal percussion.

Future of the Left - My Gymnastic Past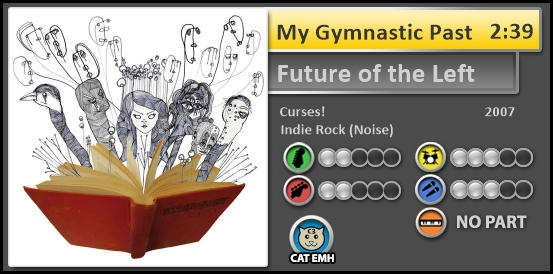 09/06
Queens of the Stone Age
These songs were charted by Ungrateful Dead, I converted them and fixed some stuff here and there.

Queens of the Stone Age - I Never Came



Queens of the Stone Age - Medication



Future of the Left - Polymers Are Forever



Secret Chiefs 3 - Radar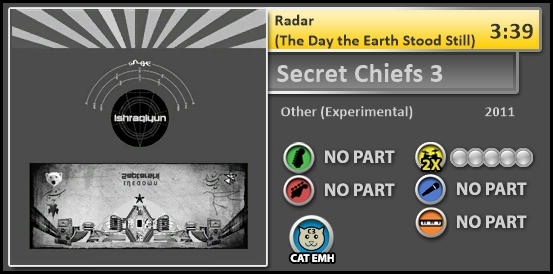 2x bass pedal
Such a crazy song. Here's a live version of the song.

09/07

Queens of the Stone Age - A Song for the Dead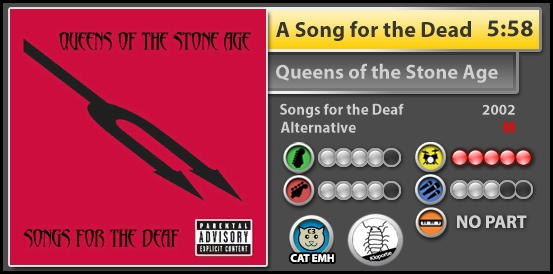 Guitar and drums by thespike1.

11/29
Gentle Giant - Peel the Paint




Original chart (drums only) by oscarj08 and Sideshow. It's a really great song, challenging on drums and guitar with a pretty long guitar solo.

Video preview


12/30
NEW! Frank Zappa & The Mothers of Invention - Dirty Love





Video preview

02/21
Cleft - Onan's Boulder



Really fun song on drums from this "turbo-prog" duo!
Video preview
03/11
 



03/25

Vadrum - Symphony No.5


 
Vadrum - Radetzky March


 
Vadrum - The Typewriter



Vadrum - Les Toréadors

]
 
Frank Zappa - Why Does It Hurt When I Pee?


 
05/08
 
Carry Stress in the Jaw / The Secret Song
 


 
Credits:
Carry Stress in the Jaw:
BraxtonThePorcupine: drums, guitar, bass
Kloporte: tempo map, keys, vocals and finishing touches
 
The Secret Song:
BraxtonThePorcupine: drums
Kloporte: tempo map, guitar, bass, keys, vocals, finishing touches
 
2. Stubb (a Dub)
 


 
Credits:
BraxtonThePorcupine: drums
Kloporte: tempo map, guitar, bass, keys, vocals, finishing touches
 
3. Retrovertigo
 


 
Credits:
BobSchneeder45: drums (FOF)
Kloporte: everything else

05/17
Uz jsme doma - Kouzelnik


 
05/24
 
Deep Purple - Lazy
 


 
Original guitar chart by Puppetz, drums and convert by oscarj08 and Sideshow. I charted the rest, along with fixes, proper drum animations, etc.
 
06/06
 
Them Crooked Vultures - Mind Eraser, No Chaser
 



06/26

Naast - Mauvais garçon 



Ludwig von 88 - 110 mètres haies




Stupeflip - Je fume pu d'shit



07/05
Pryapisme - La notion de chiralité de spin



Video preview

09/07
 
Future of the Left - The Real Meaning of Christmas



 
Gorillaz - Kids with Guns



Frank Zappa - Camarillo Brillo



10/31

That Handsome Devil - Mr. Grinch
 



11/04

Future of the Left - Miner's Gruel



Here's another song from Future of the Left, this time from their new album. I charted a custom venue that you can see in the preview video here

11/19
mouse on the keys - 最後の晩餐[/size](Saigo No Bansan)
 


 
Video preview

11/25

Charles Mingus - Better Git in Your Soul




Here's a song from TheLieInKing's jazz pack. I fixed the drum chart and added proper drums animation. Enjoy!

12/06

That Handsome Devil - Elephant Bones




01/02

Uz Jsme Doma - Usi




01/11

Primus - The Toys Go Winding Down




Richard Gotainer - Le Youki




01/29

Vadrum - Tarantella (La Danza)




An Albatross - Hairobics




02/01

Zu - Erinys


 
02/12
 
The B-52s - Dance This Mess Around
 


 
Video preview

02/27:

The Dresden Dolls - Gravity



Now with pitched vocals!
Video preview

02/28:

An Albatross - Blessphemy (Of The Peace-Beast Feastgiver And The Bear Warp Kumite) (full album)




03/01:
Kloporte - Drum Exercises for the Sufficiently Narcoleptic




05/11:

mclusky - Lightsabre Cocksucking Blues



05/14:

Pryapisme - Les formes syncopales...



05/25:

The St. Pierre Snake Invasion - Rock 'n' Roll Workshops




At the Drive-In - Mannequin Republic




Fugazi - Strangelight




05/30:

Free Salamander Exhibit - Unreliable Narrator




06/01:

Serge Gainsbourg - Comme Un Boomerang




06/14:

mouse on the keys - Aom




06/15:

Primus - Frizzle Fry




Primus - Mr. Knowitall




Primus - Pudding Time




ni - Butor


06/20/17
Arctic Monkeys - Pretty Visitors
Arctic Monkeys - Crying Lightning